In late May 2016, fellow Post-Graduate Intern Camille Polkownik, Director Rupert Featherstone, and I worked on a number of paintings at Our Lady of Sorrows Chapel on the campus of Eton College, located near Windsor Castle.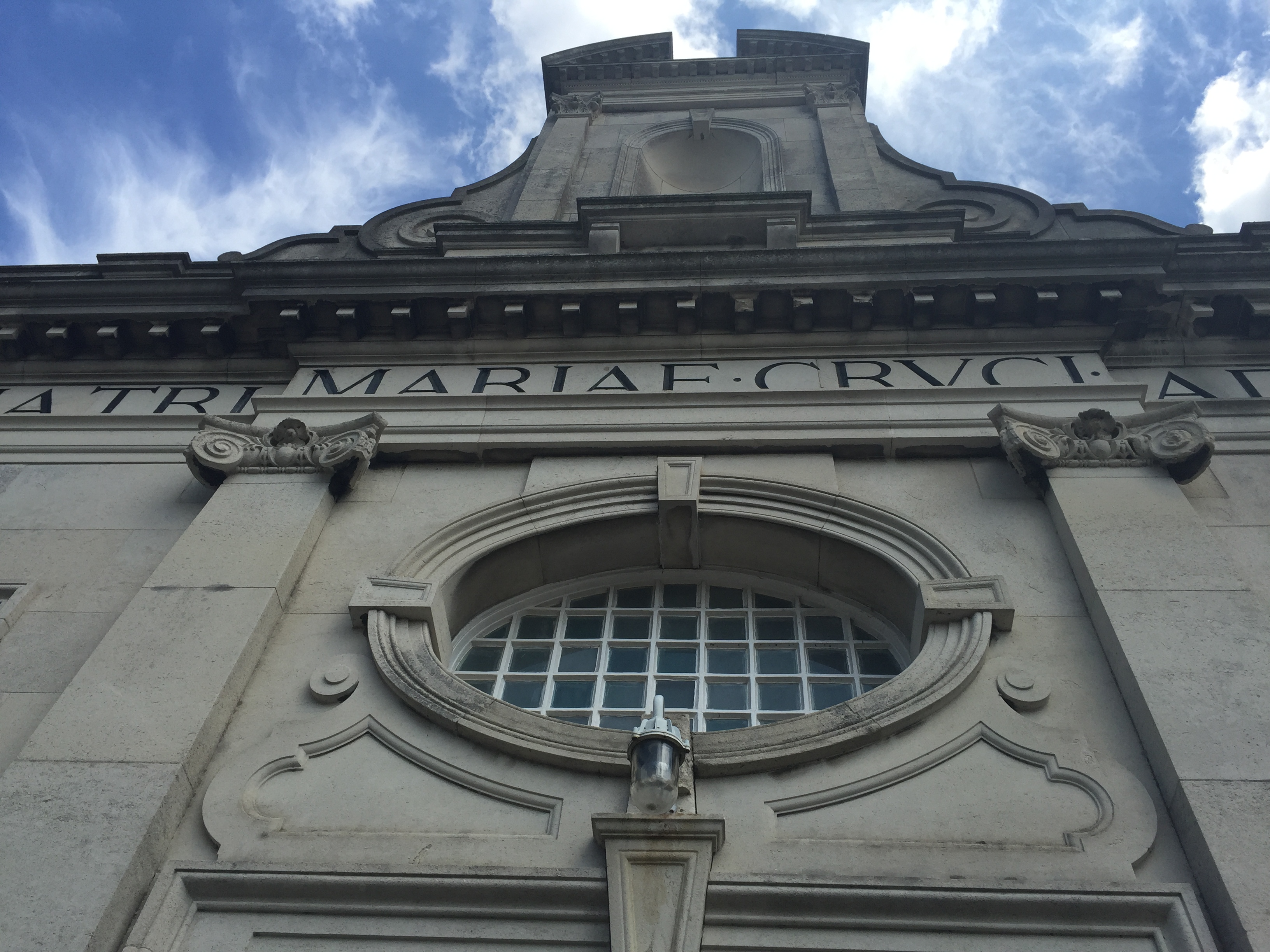 Over the course of three days, we treated eight paintings on site. While this in-situ project involved a number of procedures routinely carried out under such circumstances, including consolidation, surface cleaning, minor tear repair, minor filling and retouching, varnishing, and conservation-standard re-framing, we encountered a number of slightly unusual challenges that warrant mention.
Two of the paintings, upon closer inspection, were found to consist of paper adhered to canvas, which was in turn attached to keyable stretchers. These paintings appeared to have been executed in an oil-type medium and had darkened coatings, possibly tinted to make the paintings look older. Extra caution was taken during surface cleaning as a result of the potential sensitivity of the paper supports to water. After some testing, the solution settled upon was to use a lightly dampened "Blitz-Fix" sponge and dry the surface immediately with Kimwipes (acid-free tissues).
Additionally, while saliva or deionized water at pH 7 or 8 on cotton swabs would generally suffice for surface cleaning varnished paintings, two paintings – one varnished, one unvarnished – were found to warrant the use of a cleaning solution with a low percentage of an added chelator on cotton swabs due to the significant amount of tenacious grime present. These paintings, previously appearing rather dull and grey, underwent dramatic visual improvements after surface cleaning. Re-varnishing these paintings was also necessary and provided aesthetic benefits.
For health and safety reasons, the choice of which varnish to use while on an in-situ can oftentimes be limited to the synthetic varnish requiring the least harmful solvent. Fortunately, we were able to time the progress of our treatments such that we could varnish at the end of the second day prior to leaving the building, preventing human exposure to solvent vapours. This allowed us to use Paraloid® B72, for example, which we found particularly beneficial to employ on paintings with uneven gloss.
Framing and hanging presented a few challenges as well. We needed to consider several special modifications when re-framing the paintings, including enlarging the rebate of one of the free-standing frames, since the painting didn't quite fit. The college staff also took the opportunity to modernise the hanging hardware.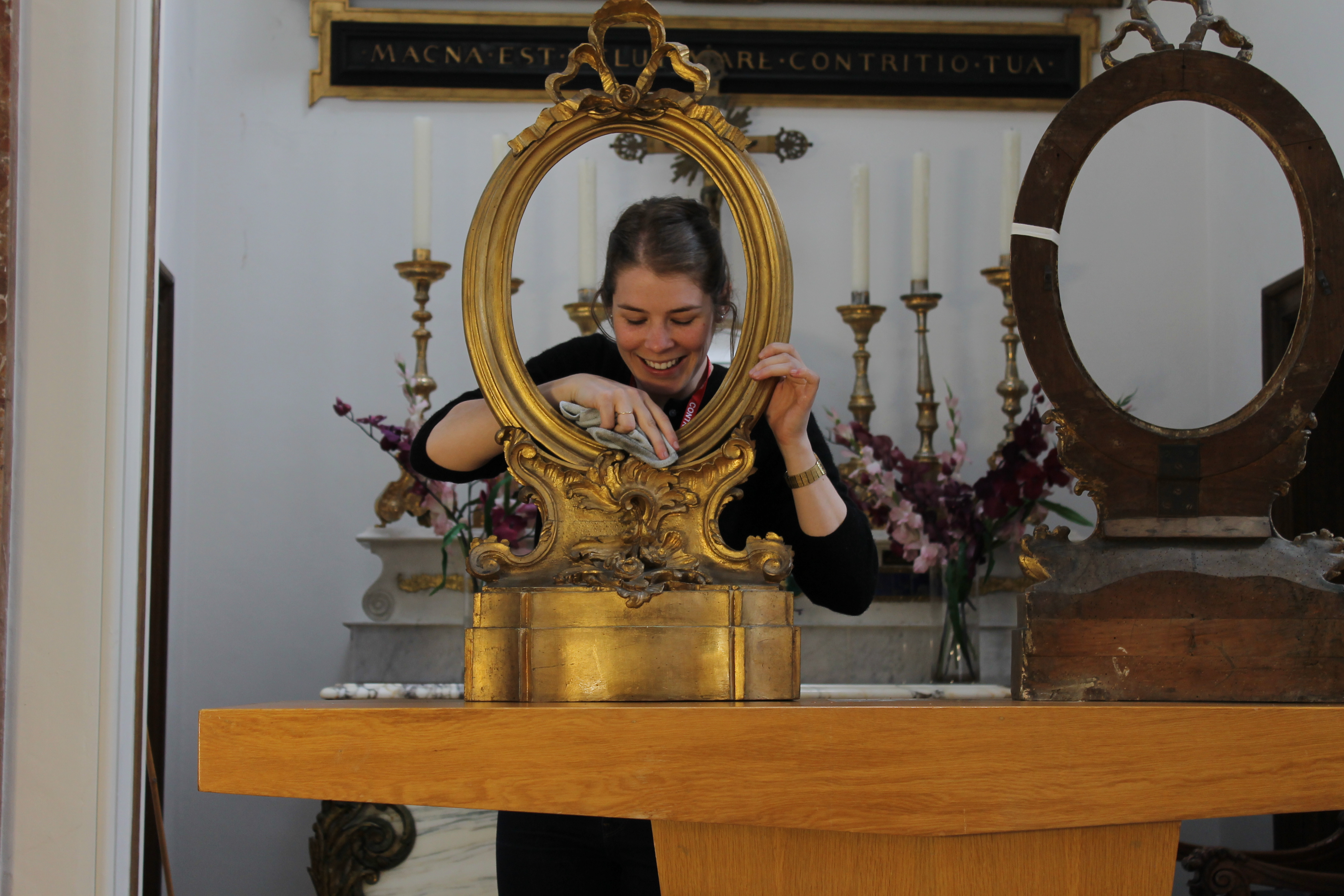 It was a privilege to participate in this project at Eton – not just because we were treated to Eton College behind-the-scenes, or because we managed to fit in a few strolls in the evenings to see the incredible number of swans on the river! It was a pleasure to work in such a lovely space, and it was a valuable learning experience to encounter such a range of conservation issues on site.
Many thanks to the welcoming and supportive staff at Eton College for inviting us to work on site. We hope that the congregation of Our Lady of Sorrows appreciates the aesthetic improvement of the paintings and that our efforts have added to an enjoyable experience of the chapel.
Kari Rayner – 1st year Post Graduate Intern at the Hamilton Kerr Institute
---
Ms Kari Rayner graduated with a Master of Arts in Art History and gained an Advanced Certificate in Art Conservation from New York University, USA. She also has a Bachelor of Arts in Art History, Art Theory and Practice from Northwestern University, USA. During her graduate studies, Kari interned at the Wallraf-Richartz-Museum in Cologne and worked at Modern Art Conservation in New York, NY. Her final-year internship was undertaken at the National Gallery of Art in Washington, D.C., and she will be returning to the NGA in fall 2016 to begin an Advanced Fellowship in Paintings Conservation.
To contact Kari Rayner: rayner.kari.s@gmail.com