The Fitzwilliam Museum is well known for its large and diverse collection and the Department of Antiquities alone holds 27,000 objects. The public galleries represent approximately one tenth of this, with other objects packed away in storage areas. The best and most interesting of these are swapped onto display, many other objects, including small items such as pottery sherds and beads, are accessed by researchers whilst in storage. As Departmental technicians, one aspect of our job, is caring for the objects, both on display and in storage, and working alongside the conservators and curators to ensure that they are housed a suitable way, which will help guarantee their longevity and condition.
In the Antiquities stores, as with many museums, space is limited. With many objects kept in storage, it is an on-going job to rearrange both store and the objects, so that the collection can be best accommodated into the minimum amount of space, but remain accessible to researchers. A recent project that is part of this reorganisation is the Egyptian Organics.
As the name suggests, these are Egyptian objects, varying in types of organic material and design. They are extremely sensitive to changes in environmental conditions and insect pest attack, so it is best for them to be stored together, where we can keep a close check on these factors. They have been stored in temporary tray-stacks in several different places, and we were keen to get them repacked, documented and rehoused together.
How are we doing it?
There is quite a bit of work that will go into rehousing this material, it is not a simple case of just transporting them to a new cupboard or box. Each object is assessed individually through a multi-stepped process.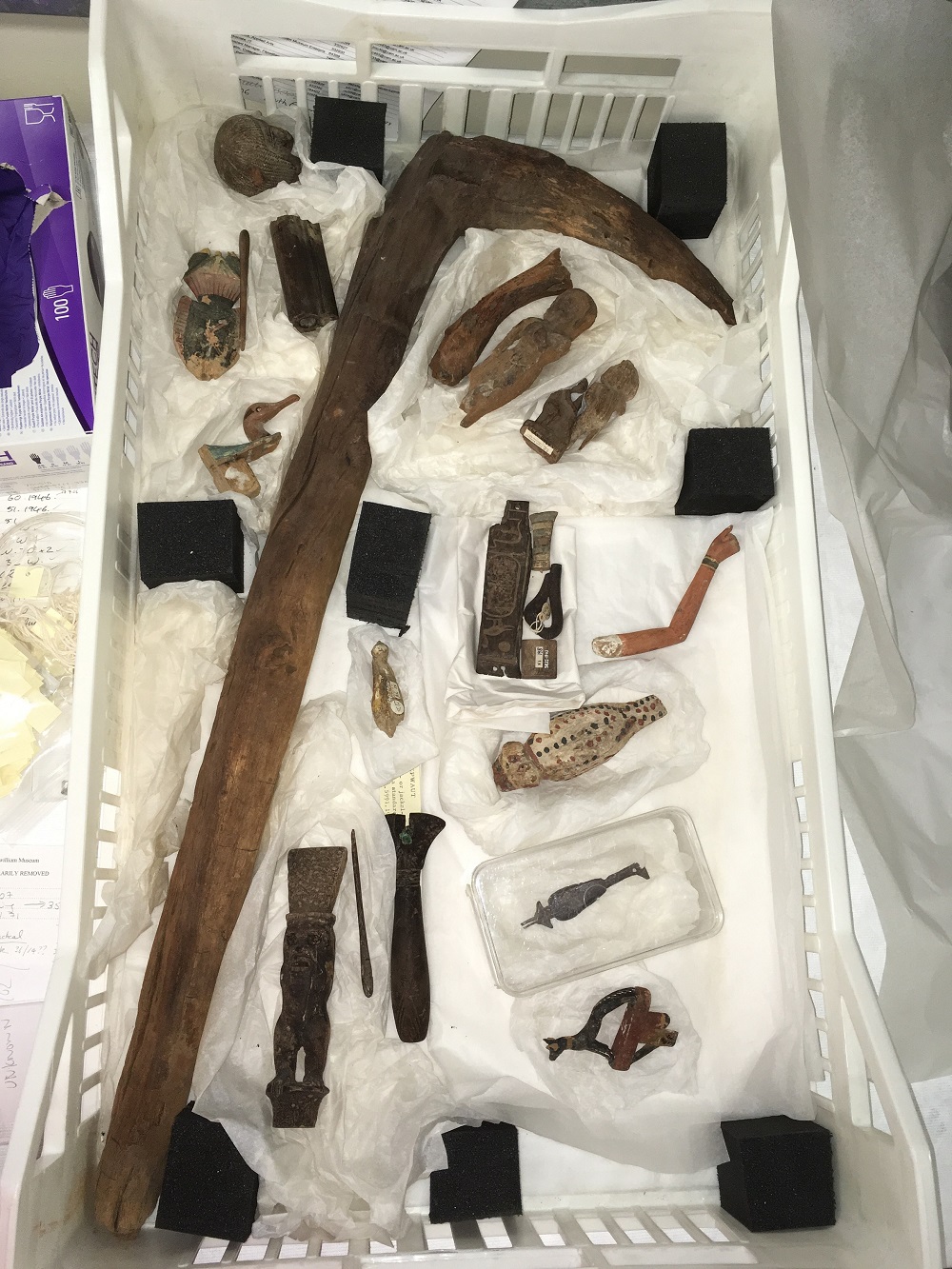 How the objects have been stored previously.
Up until now, the organics have been stored in these large trays. They are lined with inert foam and acid free tissue, however some objects were not as well supported as we would like and we were keen to refresh the tissue and reduce some of the cramped storage. Some objects had also become separated from their information or component parts.
Each object was taken out, photographed and assessed for its conditions and needs. Information on each object is imported into a spreadsheet, which includes details such as the museum number, a brief description of what the object is, what types of deterioration are present, whether there are old repairs, or metal components. We also gave it a condition grade out of 5, with 1 being in the best condition (similar to the condition of the objects out in the galleries) and 5 being the worst, meaning it might need immediate treatment.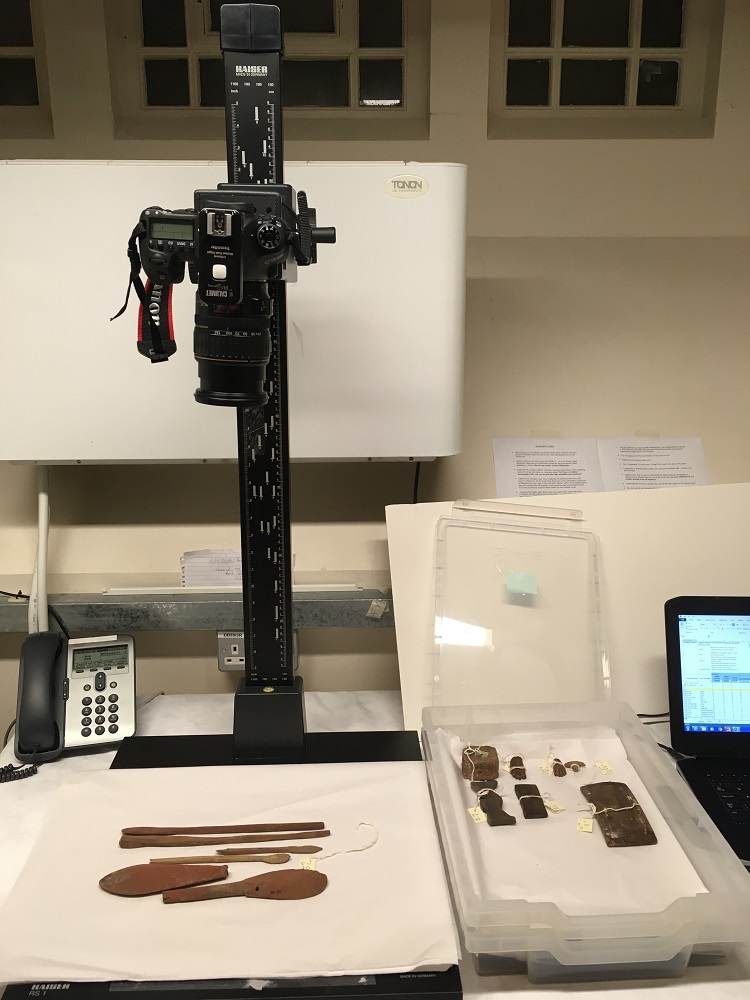 Organics being photographed, documented on the spreadsheet and labelled up.
The museum number is usually written somewhere on the object itself. It may seem strange to permanently mark the object, but it is the best way to ensure the number remains attached, as labels and tags can easily fall off and become disassociated. These days, when marking an object we do it in a way that is reversible and not harmful to the object, but pieces that arrived in the collection in the past sometimes have the number directly applied to the surface. The museum number is how we identify the object, it links it to all its records and documentation, including information on when and where it was found, and how it came to be part of our collection.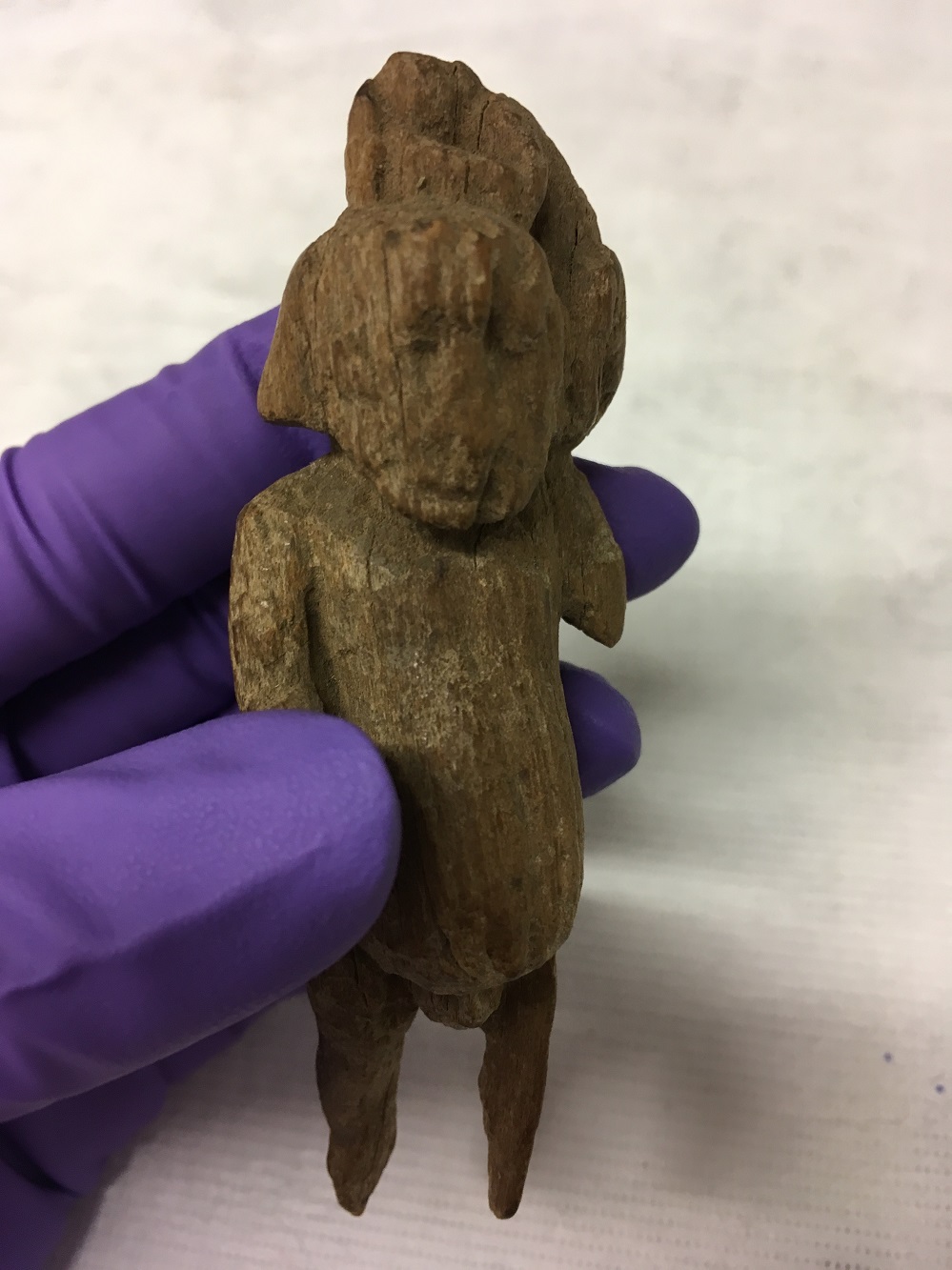 An object like this would be hard to identify if we didn't know its museum number. Luckily it has survived and is still legible.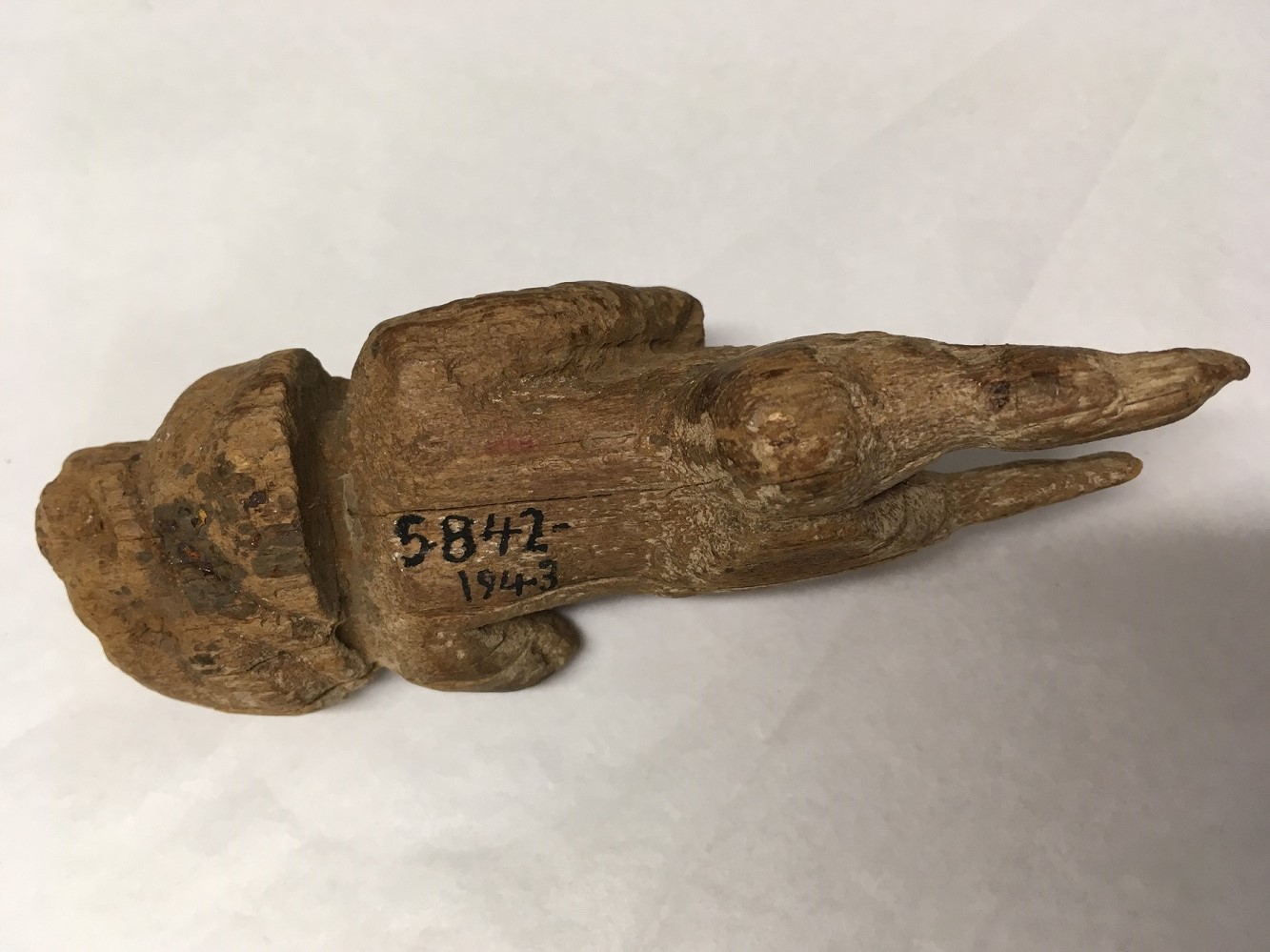 This tells us that this object came into the museum in 1943, and it was the 5842nd object to be accessioned that year. It means we can easily access all the documentation and provenance for this object. By looking at the online database, we can find out that E.GA.5842.1943 is a figure of a Pygmy with a monkey on its shoulder.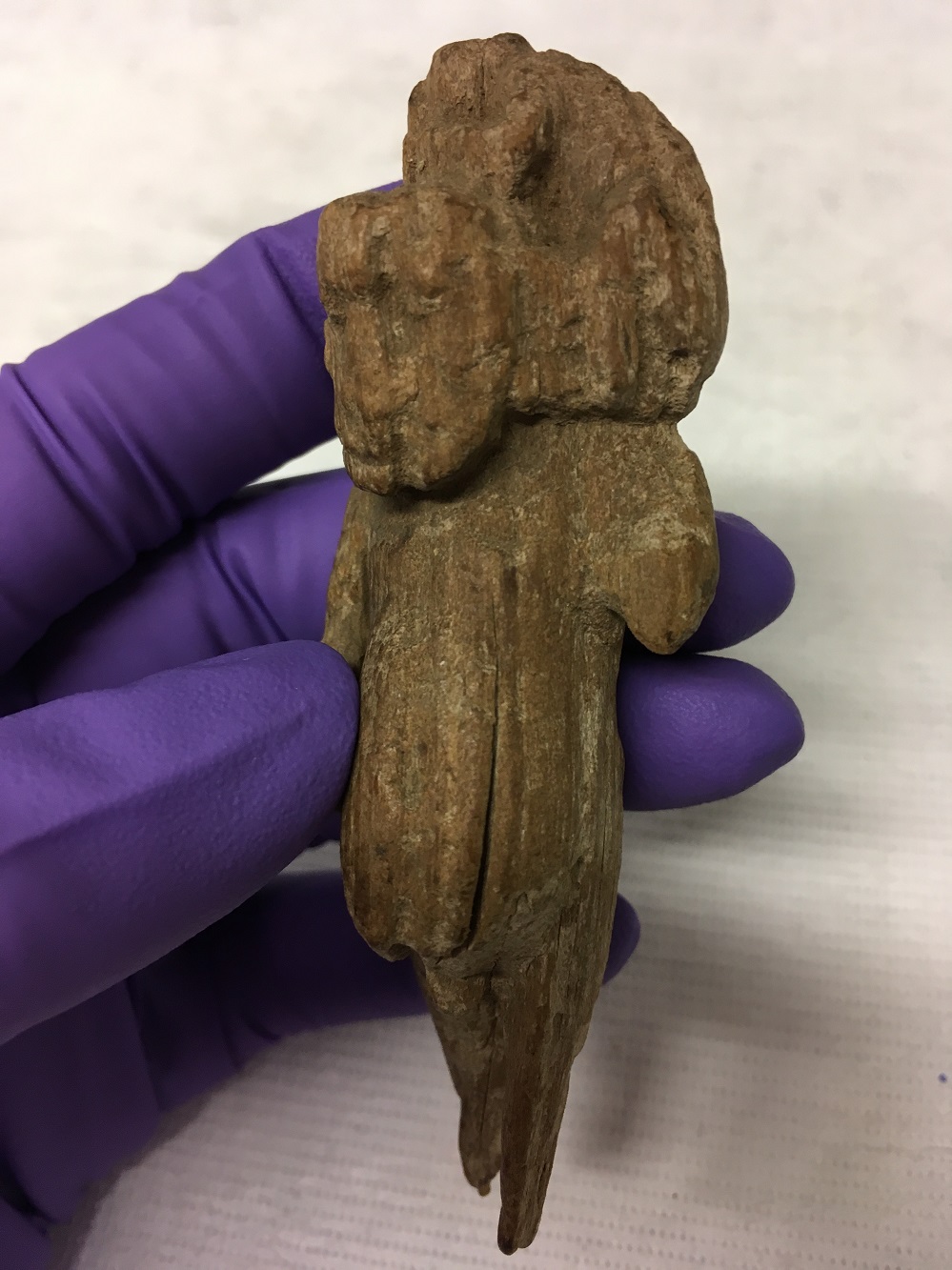 Once you know what the object is supposed to be, it is a lot easier to recognise.
When all his information is recorded, and his label is attached, he is nestled into new acid free tissue paper and placed into a lidded plastic tray.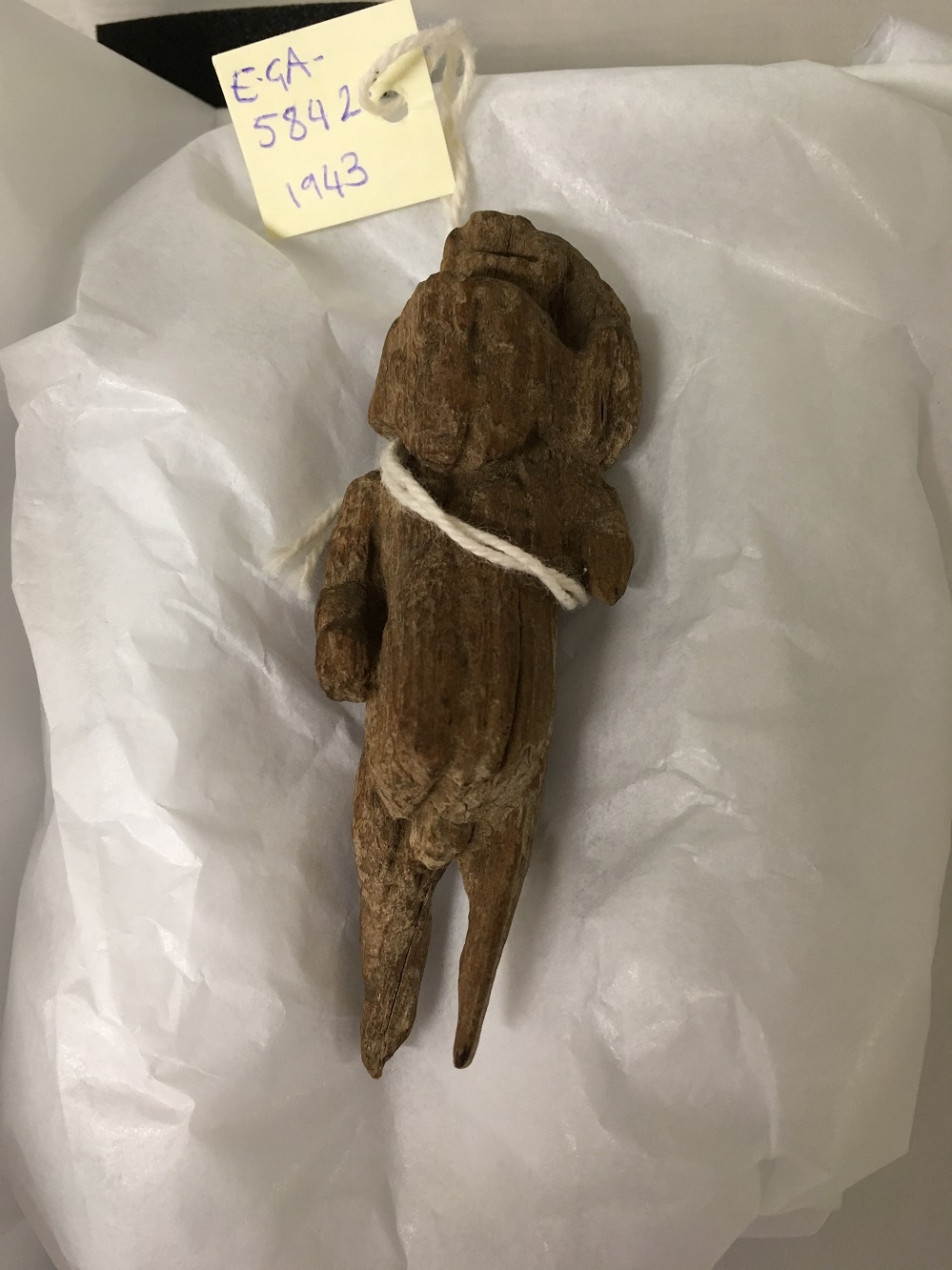 Even though his museum number is clear to read, giving him a second visible label means we do not have to handle him to check his number in future, thus minimising further damage.
Sometimes, due to the condition of the object (or the handwriting!) the legibility of the number can become a problem. If we are not sure of the number, we can check it against our Slip Books. For many, but not all of the objects, these Slip Book records were created at the time the objects were given a number. They contain lots of useful information, including drawings and sketches of the objects (as this was before cameras were readily used) which can be used to match the object correctly.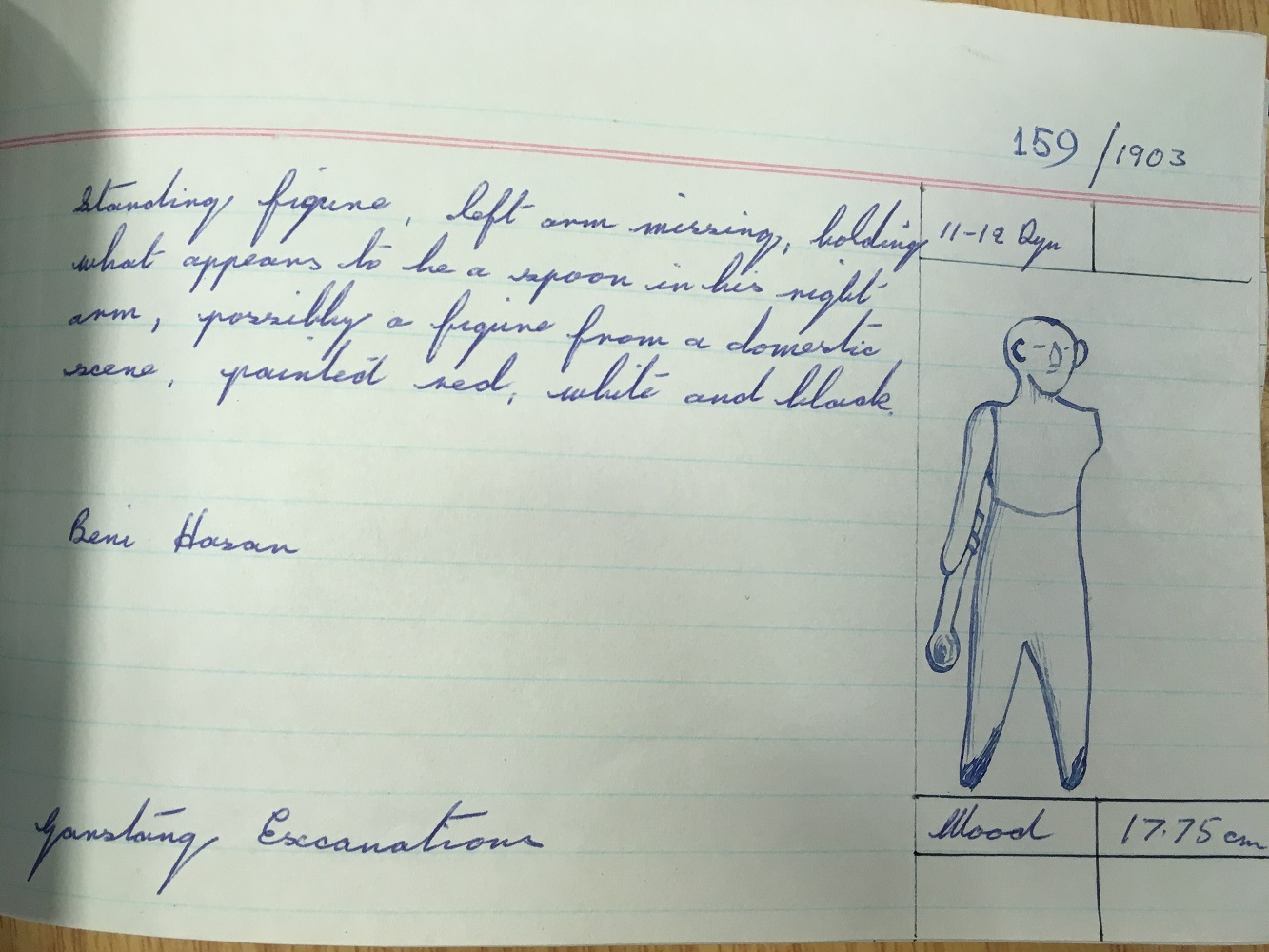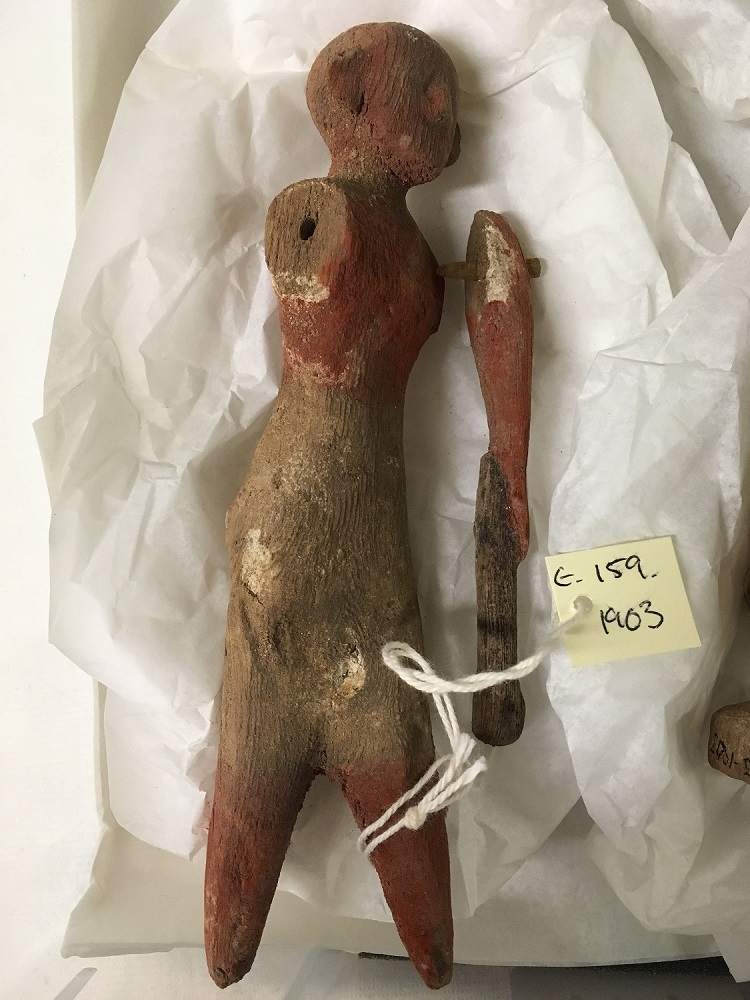 Object with its Slip Book entry and drawing.
These drawings are extremely helpful as we can determine what state the objects where in when they arrived and how they are faring now in comparison. It is important to note that the condition of most of these objects has barely deteriorated since they arrived at the Museum. Some objects, especially the tomb model figures, were found to have remnants of newspaper attached to them. As many of the Slip Books entries also make note of it, we can determine that it is likely this newspaper was wrapped around them, as packing material when they were first shipped to the UK after excavation. The newspaper has adhered itself to the surface of the object and became embedded within the grain, making it potentially a tricky (and long) job for a conservator to tackle.
Any object that does not have a number and we cannot straight away identify from the Slip Books, we assign an 'Unknown' number. Currently over 100 of these 'unknown' numbers have come out of this project.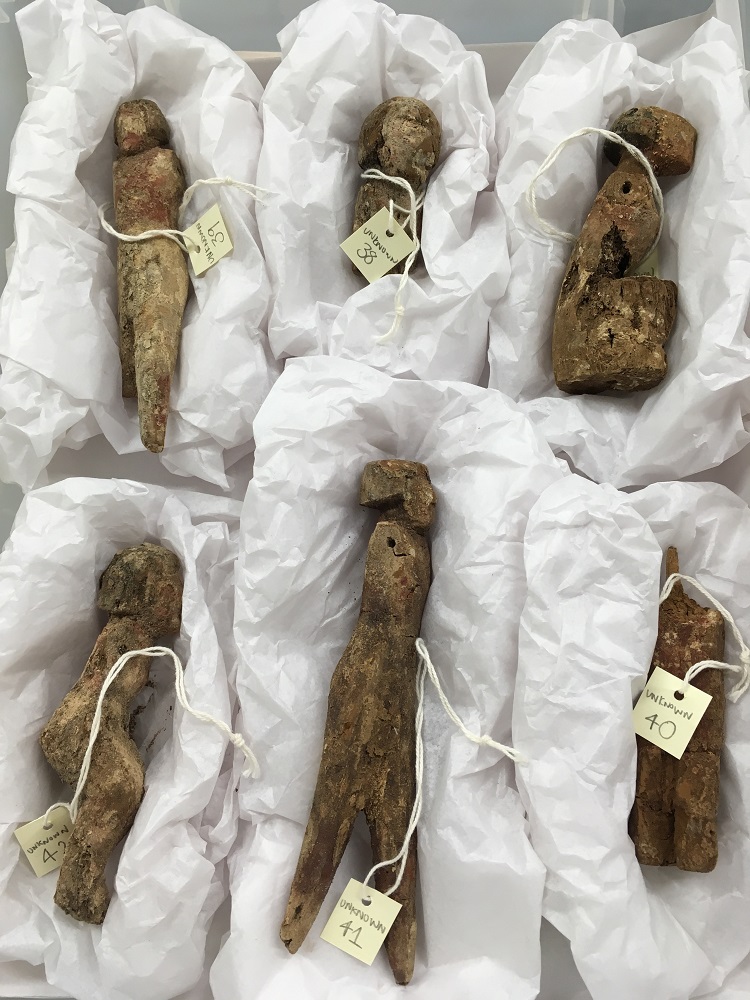 All these unknown organics will have to be identified through investigation through both our online database and our Slip Books, some unfortunately might take a bit of work to identify!
However, as they are all now safely packed and documented, the conservators can get to work on any that require immediate treatment whilst we investigate!
Rehousing all these artefacts safely is only the first step. There are still many phases of conservation, research, and documentation to be carried out, along with more permanent housing for those that need stabilising. However they can now all be easily accessed and identified, as well as safely packed away.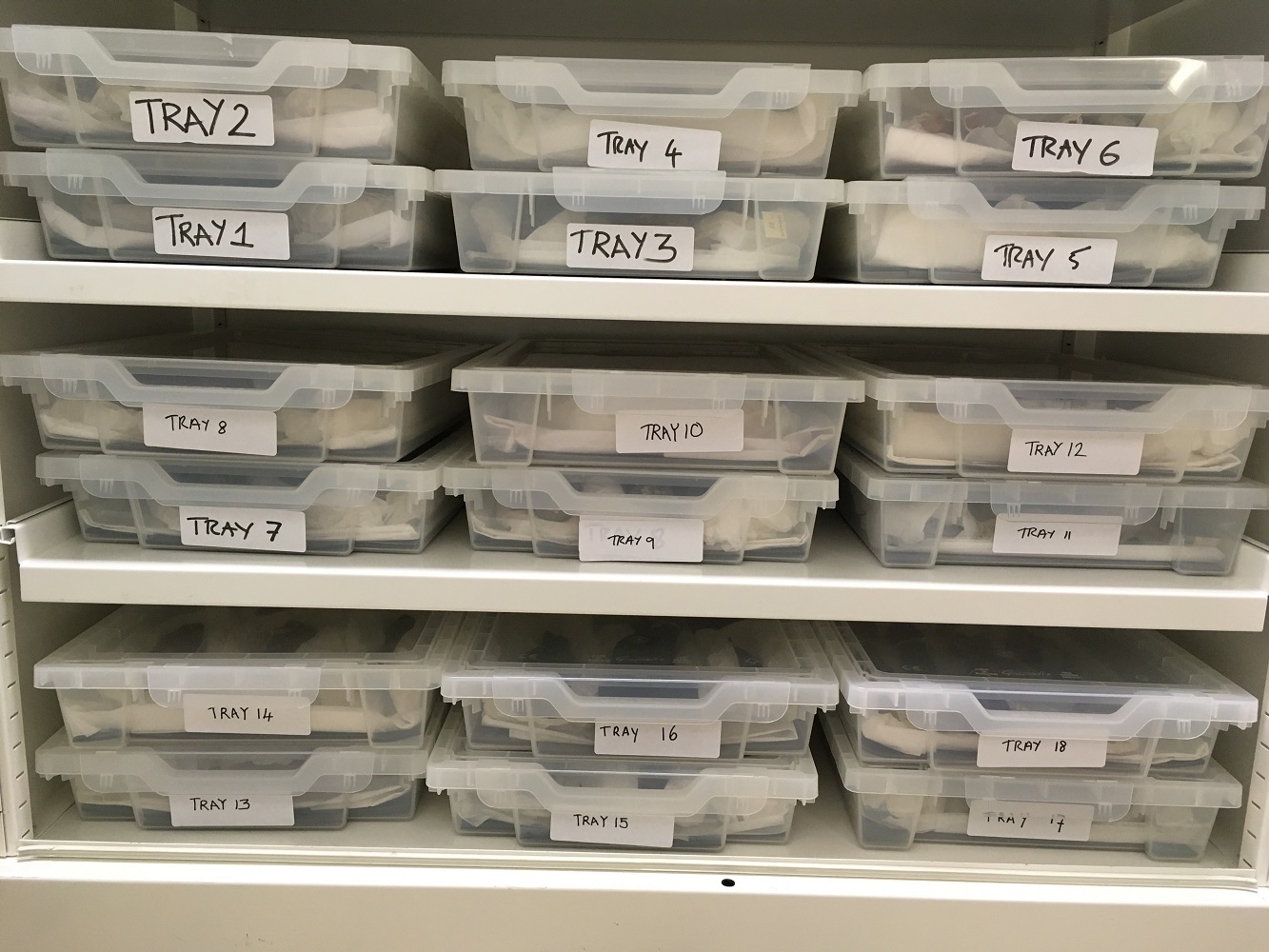 Projects like these allow us to look at our collection in depth, building up a good picture of the nature and the condition of the objects. It is also one of the most enjoyable parts of our job, as you never know what you might come across next…