The Applied Arts team has been working with the Paintings, Drawings and Prints (PDP) Department on the recently acquired Lennox-Boyd fan collection. The collection is comprised of 435 folding fans, 10 screen fans, 178 unmounted paper fan leaves, and 4 miscellaneous items. Some folding fans and leaves are mounted within frames, and many are accompanied by their original boxes. The table below shows the variety of fan types and materials. The graph shows their geographical distribution.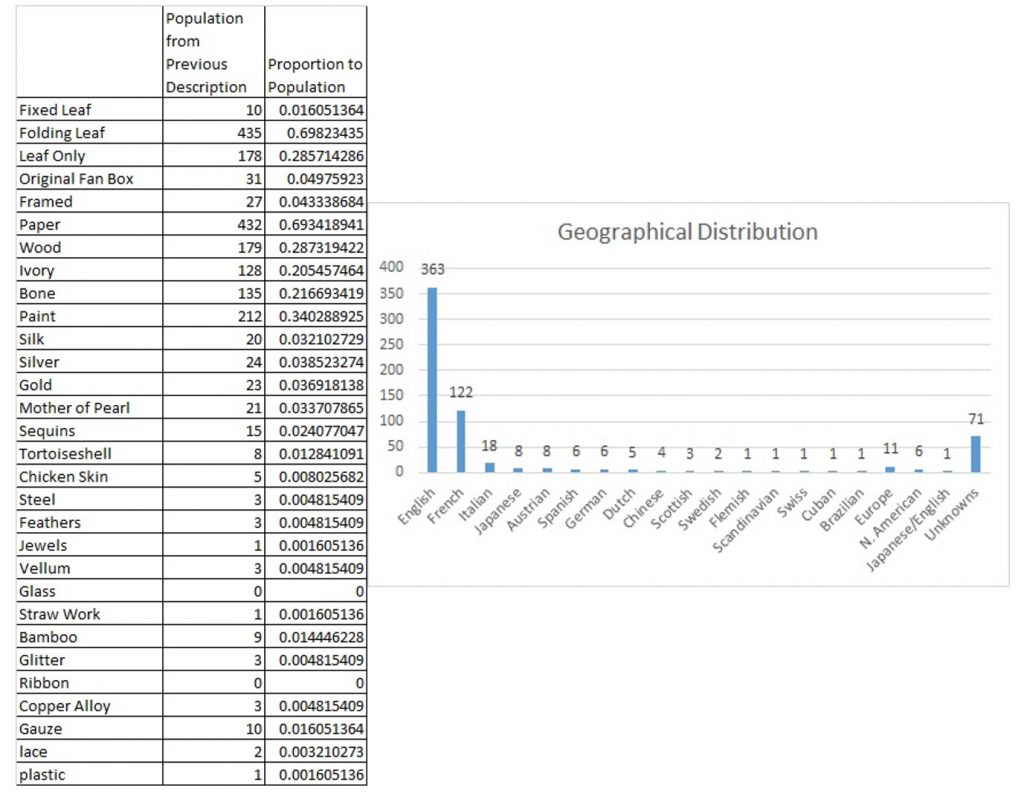 The project began with a condition survey. Paper Conservator Rosie Macdonald and I examined a sample of the collection, identifying materials and deterioration problems, and estimating the time required for conservation.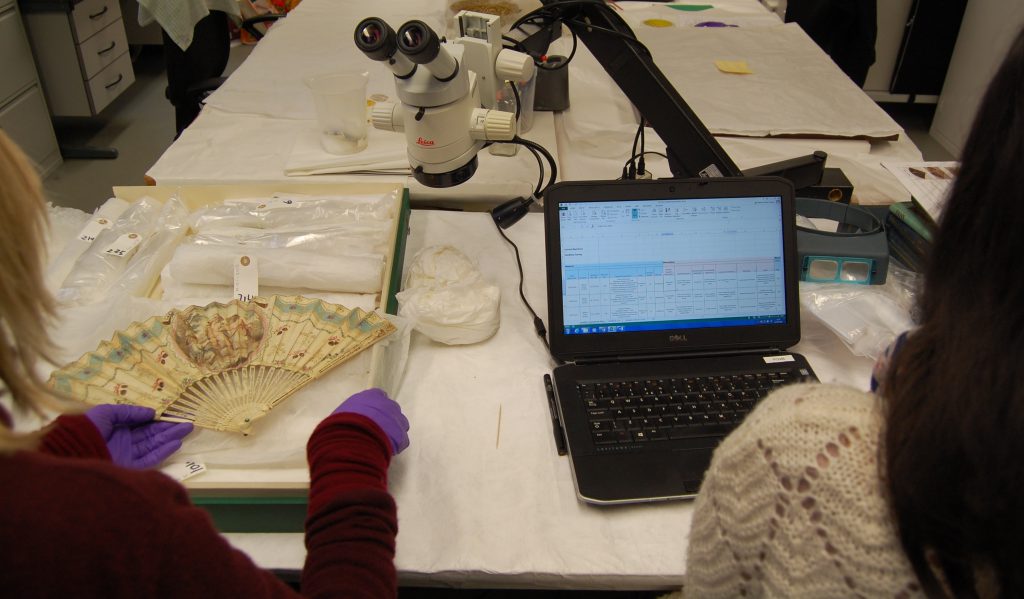 We photographed each fan in the sample, entered the condition data into a spreadsheet, and analysed statistics in order to better understand the condition of the entire collection. Conservators from both departments also went on a research trip to visit other fan collections in London.
In the second phase of the project we have been rehousing the collection and conserving some of the fans in preparation for a new display, opening on March 5th 2019.
Over the course of this project I conserved three types of fan: folded, brisé and screen fans.
Folded fans
Folded fans have a leaf made of paper, animal skin or textile, which is decorated in a variety of ways and folded into peaks and troughs. I cleaned the textile leaves by dusting with a soft brush and consolidated any loose elements.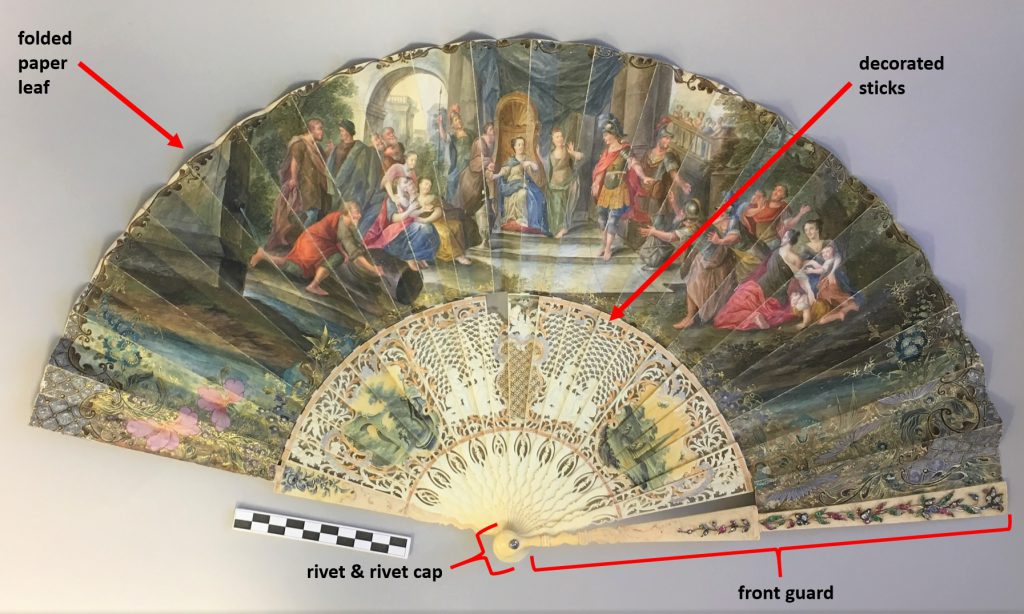 Guards are the exterior, rigid elements that protect the fan when closed. In this collection I encountered guards which are made of bone, ivory, wood, mother-of-pearl and plastic. Cleaning was carried out using a soft brush and a vulcanised rubber sponge. If further cleaning was necessary, I applied a solvent with a cotton swab, removing dirt carefully under the microscope.
Sometimes the guards are heavily worked with carved and pierced decoration. On porous surfaces, such as bone or ivory, dirt was extracted using a gel applied over a barrier layer of tissue paper. The guards were then rinsed with de-ionised water to remove any trace of the gel from the surface.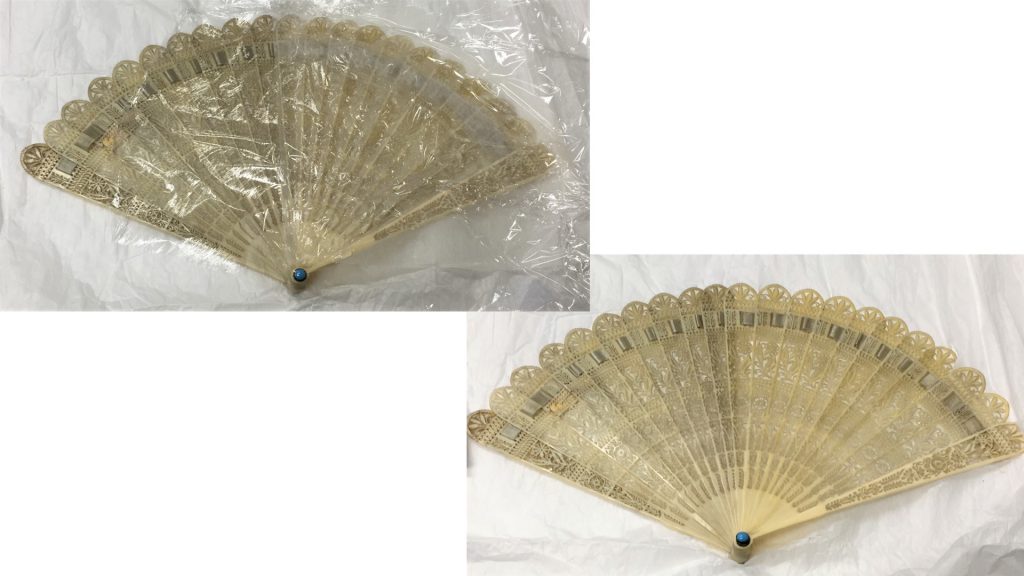 Brisé fans
Brisé fans open and close much like a folding fan, but do not have a leaf. They are made of individual blades (sticks) held together by a ribbon or string.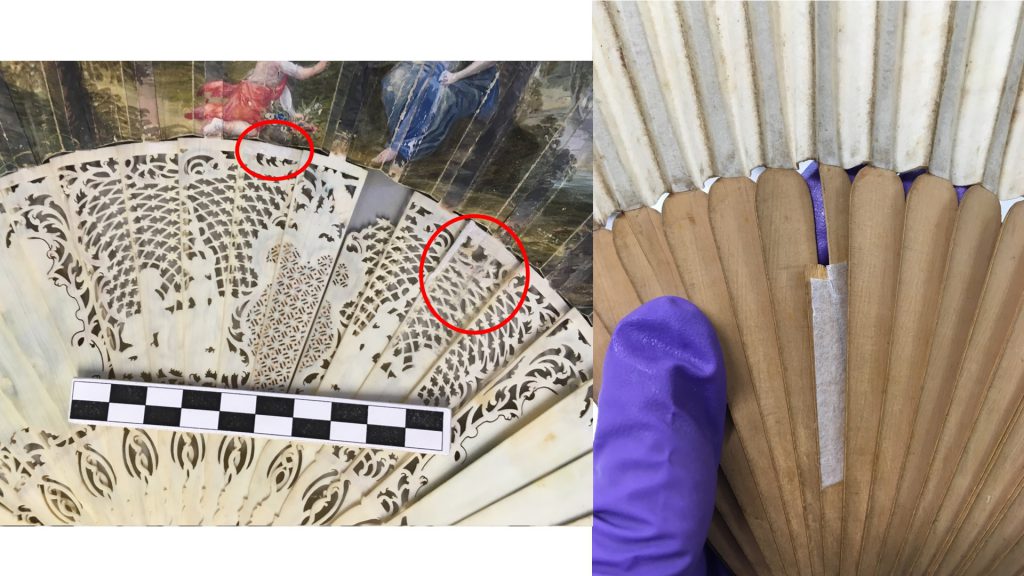 I repaired broken sticks and guards with a conservation adhesive, securing the repairs with a paper backing (as shown above). On one occasion, the breaks on the guards had caused losses. I experimented with different methods and materials to fill in this loss so that the fan could once again have protective guards. I moulded and casted a clear, resinous material that I inserted into these areas.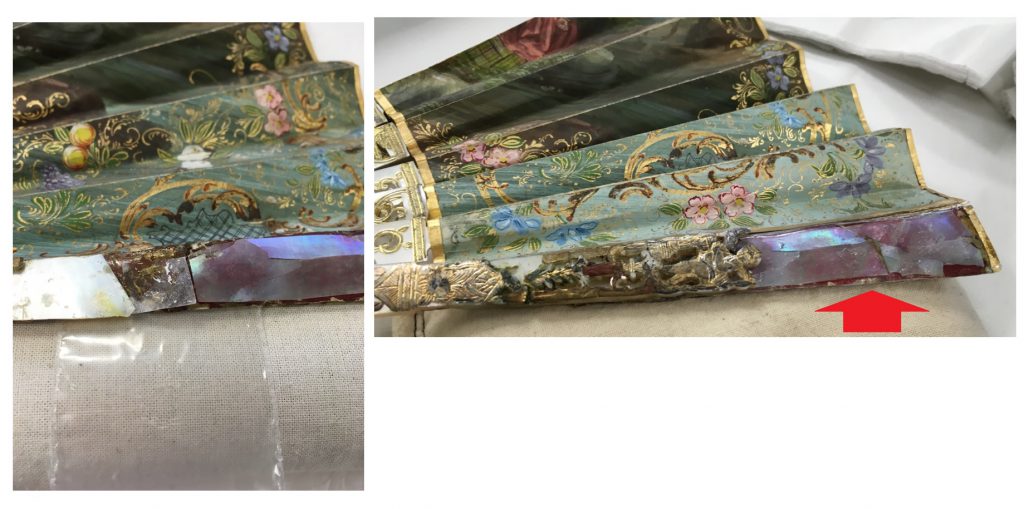 The sticks are attached at the bottom point of the fan by a rivet, spacer, and/or a rivet cap. These elements are often made of metal, with the rivet cap containing a resin, glass, or precious stone inlay. Loose inlays were secured to the surface and cleaned where necessary.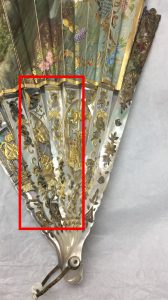 Metal overlays were stabilised with a conservation adhesive where loose elements were visible. Tarnish and corrosion were cleaned with an enzyme applied under magnification with a cotton swab. A protective layer was applied over some pigments so that the opening and closing of the fan no longer removed the decoration.
Screen fans
Screen fans have a fixed leaf that can be made of a wide variety of materials. The screen fan I conserved is made of various types of feathers, with a taxidermy hummingbird at its centre, and a wooden handle inlaid with ivory. The feathers were humidified, reshaped and cleaned. Some of the unstable feathers were re-adhered to the surface of the fan. Three areas of loss were filled with a paper patch made to resemble feather down.
For more on the conservation of these wonderful objects, watch this space for Rosie's blog-post on the treatment of the paper elements. I hope those who can will visit the new display opening next Tuesday, March 5th 2019!
Rebeca Suarez Ferreira, MA
Objects Conservator
Applied Arts Department
The Fitzwilliam Museum
Tagged: fans; Lennox-Boyd;